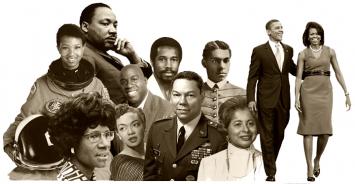 It is time again to reflect upon the African American experiences from periods of slavery through the present era. Join us at the Downtown Huntsville Public Library as we "Raise the BAR" to wrap up our month long celebration of Black History.
The Association for the Study of African American Life and History (ASALH) has selected The Crisis in Black Education as the 2017 Black History theme, which focuses on the crucial role of education in the history of African Americans. ASALH founder Carter G. Woodson once wrote, "If you teach the Negro that he has accomplished as much good as any other race he will aspire to equality and justice without regard to race."
In light of ASALH's theme, a major part of our celebration will focus on inspiring our younger community to go the distance and push themselves to learn and do more with their attained education. With a little help from the cultural, artistic, and social blossoming of the Harlem Renaissance and the use of integrated STEAM activities, the goal is to influence creative, yet critical design-based thinking towards real life issues, while boosting basic math and science skills.
Optimist International is sponsoring an essay contest to give young people the opportunity to write about their own opinions regarding the world in which they live. This year's topic is "Chasing Optimism in the Face of Challenges." In the Optimist Club of Huntsville contest, the top three winners receive $500, $300, and $100 for first, second, and third places, respectively. Additionally, to encourage participation by younger entrants, a special $100 award will be given for the best entry by a middle school, or equivalent, student. Local winners will be announced during the Black History Month Celebration Finale event at the Downtown Huntsville Library. For more information, including the application and contest rules, visit http://hsvoptimists.org/essay.html.
The program begins at 3 p.m. with a special "Hidden Figures" seek and find, exploratory learning activity throughout the Downtown Library for children (and adults too!). There will also be some make-and-take hands-on STEAM activities set up in Youth Services area on the first floor.
Shortly after 5 p.m., the festivities carry on with performing arts through music and dance. Various community partners and vendors will be set up with items for purchase.
Attendance to the event is free and open to the public.
View Black History Month programs at branch library locations
---
STEAM Activities (Youth Services, 3 - 5 p.m.)
Invent It!
Activity: Take it apart, put it together, and invent with it. All you need is a little imagination, so grab an inventor's box filled with all sorts of recycled materials and let your creativity flow!
Music Masterpieces
Activity: Combine musical elements with visual arts to create your own masterpieces while remembering one of the most influential figures in jazz, Louis Armstrong, nicknamed Satchmo or Pops, an American trumpeter, composer, singer and occasional actor.
Count-and-Capture
Activity: Grab a partner and play Mancala, a classic board game that is believed by many historians to be the oldest game in the world! Not only does the game involve strategy and calculated planning, Mancala represents the diversity of Africa. A version of Mancala is played in nearly every African country and is enjoyed by royalty and commoners, adults and children, in cities and villages of every size.
Bag 'O Blood
Activity: A pioneering African-American medical researcher, Dr. Charles R. Drew, made some groundbreaking discoveries in the storage and processing of blood for transfusions. He also managed two of the largest blood banks during World War II, so stop here to concoct your very own "bag o' blood" for unforeseen emergencies.
I Spy...Science
Activity: Do you have an eye for detail? How much science is around you? Can you spot the science in these scenes?
Build Zone
Activity: Gear up to plan and design your very own version of Huntsville like a great architect. Norma Merrick Sklarek became the first African-American woman to be licensed as an architect in the United States, and the first African-American woman architect to form her own architectural firm, Siegel, Sklarek, Diamond. At the time, it was the largest female-owned and mostly female-staffed architectural firm.
Star Gazer
Those that share a fascination of dark skies filled with bright stars like astronomer Benjamin Banneker, can stop here to make a star gazer. Banneker had numerous accomplishments, one of which included developing the concept that distant stars might represent separate solar systems during a time when there were no telescopes to confirm such a theory.
Sled kite
Construct and fly simple sled kites that are modeled after a type of airfoil called a parawing like the first parawing flight vehicle, NASA Paraesev glider, which was used to evaluate the parawing concept and ability to replace parachute landing system in spacecraft. Self-Challenge: Make predictions about the kite's flight characteristics and test those predictions through this activity.
---
Schedule of Events (Downtown Huntsville Library Atrium, 5 - 8:30 p.m.)
5:10 - 5:30: Press conference with Rep. Laura Hall
5:30 - 6:00: Sonnie Hereford Moment of Silence & Tribute
6:00 - 6:30: Neema Performing Arts Presents an Interactive Crowd Dance
6:30 - 7:00: Oakwood Academy Choir
7:00 - 7:30: Praise Performance
7:30 - 8:00: Choirs
8:00 - 8:30: Essay Contest Winners & Door Prize Winners