Calhoun Learning Lab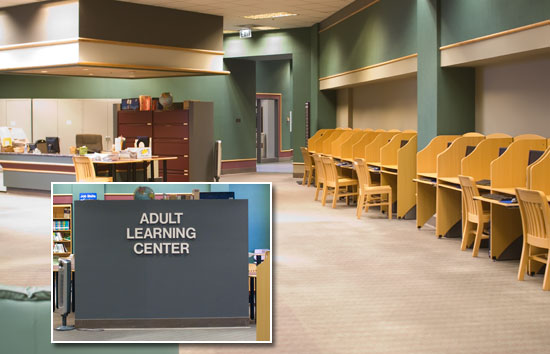 Directions:
The Calhoun Adult Learning Lab is located on the second floor of the Main Library. To reach it, enter the Main Library through the first set of double doors. Walk through the glass doors. The stairs are on your left, and the elevator is on your right.
If you take the stairs, the lab will be directly in front of you when you arrive on the second floor. If you take the elevator, exit the elevator and immediately turn to your left. The lab will be on your left.
The Adult Education Program (AE) of Calhoun Community College has partnered with the Huntsville/Madison County Library and the Church of Nativity, Episcopal opening a center in downtown Huntsville to help adults improve literacy skills. The Adult Learning Center of Huntsville (ALC) provides a safe environment where volunteers coach adults in basic reading and math skills. Located on the 2nd floor of the downtown library, the center is currently opened three days per week and provides individualized instruction for over 30 adults in our community. Success of the program is overwhelming, and plans are in place to extend the hours of operation of the center to help more students.