Introduction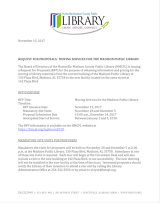 The Board of Directors of the Huntsville-Madison County Public Library (HMCPL) is issuing a Request for Proposals (RFP) for the purpose of obtaining information and pricing for the moving of library materials from the current building of the Madison Public Library at 130 Plaza Blvd, Madison, AL 35758 to the new facility located on the same street at 142 Plaza Blvd. The anticipated date for the move is between January 2 and 5, 2018.
Approximately 75,000 items will be moved, including books, paperbacks, periodicals, audio materials, DVDs, and newspapers. These items must be maintained in a sequential order and placed in the same order on the appropriate shelves in the new building. Mandatory site visits for proposers will be held on November 28 and December 5 at 2:00 p.m. at the Madison Public Library. Interested proposers should notify the Library of their intention to attend a site visit by calling the Library Administration Office at 256-532-5950 or by email to sroyer@hmcpl.org.
The RFP is available for download on this page only.
Questions
Questions will be posted here as they arrive from interested vendors.
Answers will follow.