The Huntsville-Madison County Public Library is excited to be an official partner of the AL 200 Bicentennial. 
Celebrate with us as we take a yearlong look at the history of Huntsville and Madison County. In 2019, you can look forward to:
History-themed months, including: Territory Years; Founding of the State; Antebellum Alabama; the Civil War; Turn of the 20th Century; World War I and the 1920s; Great Depression; New Deal; World War II; the Space Program; Civil Rights; and Alabama of today and tomorrow.
Speaker Series, featuring local historians and authors.
Exhibits, including in-house and traveling exhibitions from Special Collections and other institutions.
Interactive Timeline, updated monthly to include events from Alabama's history.
Suggested Reading List, posted online and on social media. Formed monthly by the Downtown Branch's Readers Advisory team.
LearningQUEST is our official co-sponsor.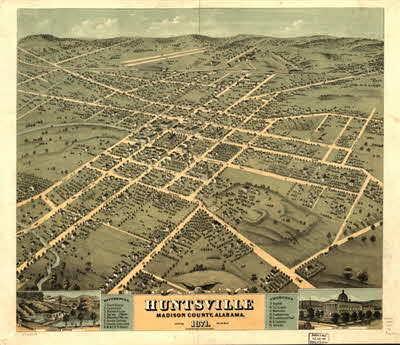 Schedule of Events:
January 22, 3:30 p.m.
Archaeology of the Territorial Period, 1798-1819
Presented by: Ben Hoksbergen
Downtown Huntsville Library Auditorium
January 29, 6:00 p.m.
Searching for Harry Toulmin: A New Look at Territorial Alabama
Presented by: Jane DeNeefe
Downtown Huntsville Library, Second Floor Meeting Room
February 15, 3:00 p.m.
The Clays: An Early Huntsville Family
Presented by: Shalis Worthy, Archivist
Downtown Huntsville Library, Ranee' G. Pruitt Room (Third Floor)
March 9, 10:00 a.m.
Antebellum Alabama with Burritt on the Mountain
Downtown Huntsville Library Auditorium
---
Want to stay up to date? Sign up for our special collections newsletter.