Introduction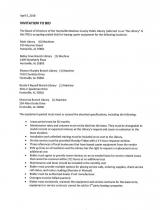 The Board of Directors of the Huntsville-Madison County Public Library (referred to as "the Library" in this ITB) is accepting sealed bids for leasing copier equipment for the following locations:
Main Library (6) Machines
Bailey Cove Branch Library (1) Machine
Eleanor Murphy Branch Library (1) Machine
Bessie K Russel Branch Library (1) Machine
Monrovia Branch Library (1) Machine
The equipment quoted must meet or exceed the specifications included in the full ITB (linked below and by the image to the right)
Bid Opening Date: Thursday, April 26, 2018
Bids must be received by 2:00PM on Thursday, April 26, 2018, the bids will be opened at 2:00PM in the Board Room located on the third floor of the Main Library, 915 Monroe Street. Late bids will not be accepted or considered. The library will not be responsible for any carrier's failure to deliver a bid.
Any questions concerning this ITB shall be submitted by email to Ray Kemp at rkemp@hmcpl.org.
The ITB is available for download on this page only.
Questions:
1.) Can you please clarify WHICH type of finisher you want for this machine?
Answer: Saddle-Stich Finisher.
2.) Will selling equipment or service to third party leasing be allowed?
Answer: Third party leasing will not be allowed.