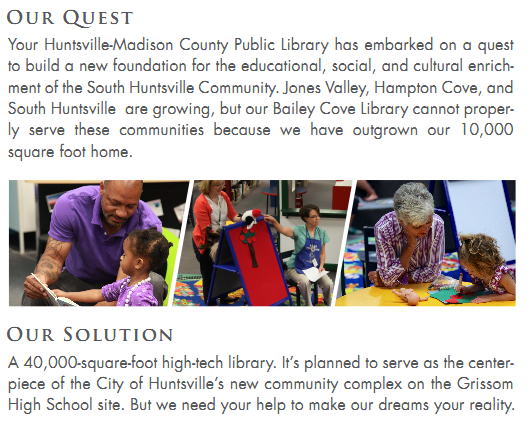 The Bailey Cove Library will be a state-of-the art public library designed to anticipate and meet the diverse needs of all generations and interests, and to accommodate the technological expectations of the patrons of today and tomorrow. This library will aim to connect individuals with what they already know they want and need, as well as, what they never before considered they would enjoy. Specifically, the Library will:
Empower creativity in library patrons of all ages. For example, the children's area will include a "building site" where children can learn by creating a physical structure. The area will not be simply a passive reading space, but an interactive space designed to engage multiple levels of literacy and imagination. Another example is a large community room which can serve as a studio for everything from hands-on art classes, "Maker Faire" style science and technology labs and author luncheons to computer classes for all levels. Additionally, space will be provided to feature both regional and traveling art and other educational exhibits. A night-sky mural and permanent space-themed exhibit will help people feel connected to our local heritage in space exploration and will create in children a wonder of the night sky.
Provide technology / media that are technologically current including in-house laptop loans, recharging stations, and multiple age levels of Early Literacy Stations for children. One of the smaller meeting rooms will include a video and audio recording studio. The knowledgeable library staff will provide support for e-readers and digital media, as well as classes on technology for all ages. As technology grows and changes over time, so too will the Library's offerings to the community.
Include ample meeting space for individual and group study, and for use by community groups. There is currently very little free public meeting space in the area and the Library will serve as an excellent resource for civic groups looking for space to meet. This variety of public meeting spaces will offer opportunities for collaboration as well as quiet space for reading. The Café may also serve as a "community living room" for discussions on reading and current events.
Provide library resources and programs supportive of the focus by area schools on S.T.E.M. (science, technology, engineering, and math) education. This will align the library with the initiative of local schools and will help provide work force development for children and teens. S.T.E.M. materials will also be of great benefit to job seekers of all ages in this highly competitive and technologically advanced job market.