The Huntsville-Madison County Public Library is pleased to announce that we will offer the complete Mind Your Money series of classes to the general public January though March of 2016.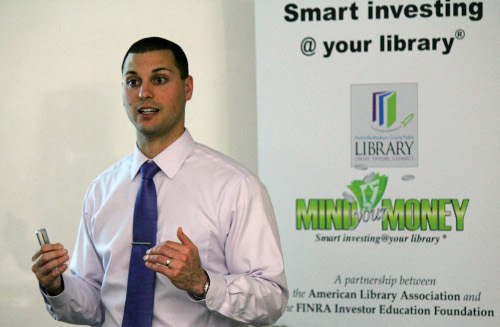 These free classes will be held in the 2nd Floor Events Room in the Downtown Library at 915 Monroe Street from 11:30am until 12:30pm on the following Thursdays:
January 14: Practical Steps to Building Wealth
January 21: Net Worth &Basic Investment Options
January 28: Principles of Investing
February 4: Creating and Managing a Portfolio
March 3: Advanced Class l (Multiple Models)
March 10: Advanced Class ll (Multiple Models)
Your instructor for these sessions is Stephen Speciale, Budget Analyst with the Missile Defense Agency (Pictured).
No registration is required to attend these sessions. Please contact mym@hmcpl.org with questions or for more information.