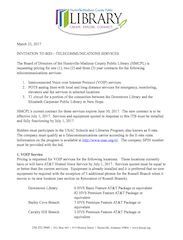 The Board of Directors of the Huntsville-Madison County Public Library (HMCPL) is requesting pricing for one (1), two (2) and three (3) year contracts for the following telecommunications services:
Interconnected Voice over Internet Protocol (VOIP) services

POTS analog lines with local and long distance services for emergency, monitoring, elevators and fax services in selected locations

T1 circuit for a portion of the connection between the Downtown Library and the Elizabeth Carpenter Public Library in New Hope.
HMCPL's current contract for these services expires June 30, 2017. The new contract is to be effective July 1, 2017. Services and equipment quoted in response to this ITB must be installed and fully functioning by July 1, 2017.
Bidders must participate in the USAC Schools and Libraries Program, also known as E-rate. The company must qualify as a Telecommunications carrier according to the E-rate rules. Information on the program is available at http://www.usac.org/sl/. The company SPIN number must be provided with the bid. Please see the attached document for complete details.