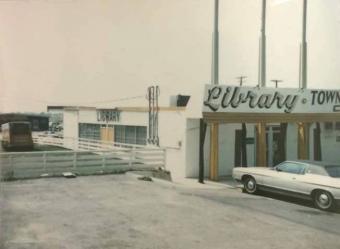 Fifty years ago, the Chaffee community came together to open up a library on Charlotte Drive, just west of South Memorial Parkway to serve the growing population of young families in the area. Members of the Civic Association of Parkway Estates and Fleming Hills, led by Mrs. Clifford Jones, recruited 90 volunteers to staff the new library. Real estate broker Cecil Clowers offered the 1500 square foot building for lease to the library system.
The recruiting efforts were successful and is evident in the strong community support that the library still receives today. By 1975, the library had become so popular that an expansion was necessary. As one librarian described, "….it continued to grow and expand until it seemed the seams would burst, and there could not possibly be room for one more book!" After 400 patrons signed a petition, the City of Huntsville purchased the current building at 7910 Charlotte Drive, which was located next door to the original location. Mayor Joe Davis and County Commission Chairman James Record dedicated the new library on November 3, 1975.
The Charlotte Drive branch was renamed the Eleanor E. Murphy Branch Library in 1981. Murphy was the Director of the Huntsville-Madison County Public Library for four years, after working for nearly 28 years in various positions, but notably as the Assistant Director. She served as the leader of the system twice during her tenure. Just one month after her retirement, the friends of the Charlotte Library Branch requested that the branch be renamed the Eleanor Murphy Branch in honor of her long contributions to the HMCPL. The library approved the action in October, 1981.
Today, the Eleanor E. Murphy Branch Library continues to serve the Chaffee Community, as well as the new Grissom High School, under the management of librarian Annie Phillips.
"I moved to the Chaffee neighborhood when I was a senior in high school, and as an adult, have lived here for over a decade. I feel so very fortunate to be the manager of this beautiful neighborhood branch and help be the steward of the legacy begun by our neighbors and city fifty years ago," said Annie Phillips.
Earlier this year, with a grant from the Huntsville Library Foundation and support from Home Depot, the City of Huntsville and the Friends of the Library, the Murphy branch debuted its Learning Garden. The garden serves as an outdoor living classroom for children, as well as a peaceful area where patrons can sit, relax and read.
"We love being able to offer this space to our patrons. I share my patrons' excitement when I say that we are looking forward to witnessing how Murphy Branch continues to grow and serve this community."