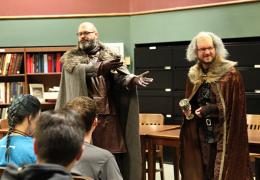 Rocket City NerdCon (RCNC) 2018 is a celebration of all things nerdy. If your fanaticism for pop culture, comic books, movies, tv, books, games, collectibles, crafting, cosplay, LARPing, etc. borders on obsessively nerdy, this is the place for you! Come meet other people who geek out over similar subjects, and let your inner nerd flag fly.
When: Saturday, Nov. 3, 9:00am-9:00pm and Sunday, Nov. 4, 9:00am-5:00pm.
Where: Downtown Huntsville Library, 915 Monroe Street, Huntsville, AL 35801
Tickets: $15 in advance or $20 at the door; children 10 and under are free with ticketed adult.
Tickets are now available! Tickets are good for the whole weekend, and you must have a ticket to enter panel rooms and workshops. The library will be open to the public during normal library hours (Saturday, 9:00am-5:00pm, and Sunday, 1:00-5:00pm), but only ticket holders will be allowed in the library on Saturday evening and Sunday morning. See our store to purchase tickets: https://store.hmcpl.org//
Follow the con on Facebook to make sure you don't miss any announcements! Questions can be sent to nerdcon@hmcpl.org.
Saturday Schedule:
9:30 AM- Disney Singalong 2018 part I- Sing along with your favorite Disney and Pixar songs, and after the initial sixty minute set, stick around for songs by request!
9:30 AM- Mr. Rogers Raised Me- Come talk about all things Neighborhood and relive the best childhood memories.
10:30 AM- Cosplay 101- Cosplay made easy! Where to start when the start seems so far away.
11:30 AM- North Alabama's Next Top (Gundam) Model- See how an armada of giant robots becomes a shelf-full of detailed models! Our Gunpla grades are High to Perfect!
11:30 AM- Mini Marvel Maniacs- Marvel meetup for kids and families to talk movies and heroes, play games, and do activities.
12:30 PM- Keep Watching the Skies: A Subjective History of American Science Fiction Films, 1950-1980- A very subjective history of modern American sci-fi movies from the Cold-War to the 1980s with the incredible success of Star Wars
1:00 PM- Meet our special guest Kenneth Spivey and hear more about him and his work.
2:30 PM- 3D Printing– Curious about 3D printing and how you can start printing for yourself? Join David Cantrell of 3D Printing Huntsville as he introduces you to the amazing world of 3D printing!
2:30 PM- Cosplay Contest- Show off your costumes and battle it out for some cool prizes! Check the rules on page 10 of your program and be sure to register by noon!
4:00 PM- Cosplay for Elders: Costuming Over 50- Presentation and inspiration for costuming directed at 50+ years. Discussion of issues particular to older cosplayers.
4:00 PM- Sunshine Start-O Dance Now!- Come and watch Sunshine Start-O perform songs from the anime "Love Live! School Idol Project!"
5:30 PM- Crossing Mediums in Fiction-Learn about crossing into different mediums with your creative work. Hear about the pros and cons of the process.
5:30 PM- Quidditch in the Rocket City- Have you ever wanted to be like Harry Potter and play quidditch? Come find out if quidditch is right for you! Come meet Rocket City Quidditch Club and give it a try!
6:30 PM- I'm Your Bad Guy This Time!- Explore the evolution of the most nefarious villain types, as we trace a few lines of influence through history.
7:00 PM- Our special guest Isaac Marion will be introducing his latest book The Living reading excerpts and answering questions.
8:00 PM- Doki Doki Literature Club- Doki Doki Literature Club is an interesting game. Let's talk about it, come meet the president of the club!
Sunday Schedule:
9:30 AM- Disney Singalong 2018 part II - 60 more minutes of Disney's best songs (with additional songs by request afterwards)
9:30 AM- The Winston Science Fiction Series- How the future began, the early days of science fiction as seen in the pages of the Winston SF series.
10:30 AM- RCNC special guest Isaac Marion is hosting a viewing of the film Warm Bodies based upon his book of the same name
11:30 AM- Self-Publishing- Interested in writing and publishing a book? Let's our panel of self-published authors tell you how they did it!
1:00 PM- VR for iPhone Users - Learn to get VR on the iPhone. Mirroring your PC is the answer.
1:00 PM- RCNC special guest Kenneth Spivey will be leading a propmaking workshop.
2:00 PM- Mastery of the Game- Answering questions about running games, creating content, and being a DM, for all levels of experience.
3:00 PM- Robots in Outer Space (A FIRST Tech Challenge Overview)- Are you interested in learning all about robots? In this panel you'll learn what it takes to be a part of a robotics team.
3:30 PM- Intro to K-Pop- Curious what this whole K-Pop is about? Join a fan as she walks you through a recent history of K-Pop in music videos! Already a fan? Stop by anyway to enjoy some great videos from Girls Generation, Shinee, BTS, EXO, and more!
3:30 PM- Meet our special guest Isaac Marion for a short Q & A session.
RCNC 2018 wants YOU! We are looking for nerdy folks to lead panel discussions, how-to workshops, singalongs, dance sessions, etc. If you're a Trekkie expert, cosplay master, enthusiast of all things robots, or just burning with the need to discuss the latest superhero film, use the panel submission form below to tell us about your idea for an awesome panel!
All panel submissions are subject to review by the RCNC Committee for subject matter and content. Panels for mature audiences are not prohibited but are subject to approval on a case-by-case basis. 18+ panels may be required to be held after Library Hours are over to insure audience suitability.
Rocket City NerdCon 2018 Call for Presentations are now closed! Thank you for submitting a panel. You should be contacted shortly regarding the panel schedule and details. If you didn't get your idea on the schedule this year, we hope you try again in 2019!
Please send any questions regarding Panel Presentations to nerdcon@hmcpl.org and be sure to include your name and contact information so we can get back to you!
Rocket City NerdCon 2018 Vendor Applications are now closed! Thank you for your interest and if you didn't get a spot this year, we hope to see you in 2019!
All vendor applications are subject to review by the RCNC Committee for convention suitability. Applicants that are found to to be unsuitable for the convention will be denied. Vendors are asked to refrain from selling or displaying merchandise intended for mature audiences as RCNC is a family-friendly convention. Please note that the Vendors Area is open to the public during regular Library Hours. Vendors are encouraged to sell their merchandise to both congoers and non-congoers alike. Payment for vendor booths are due no later than two weeks before the convention. Vendors will be invoiced through PayPal at the email provided on their application. Vendors who do not wish to remit payment through PayPal must email nerdcon@hmcpl.org and make an appointment with a RCNC 2018 Committee Chair to remit their payment in person. Vendors who fail to follow these instructions are not guaranteed a vendors booth.
Please send any questions regarding Vendor Applications to nerdcon@hmcpl.org and be sure to include your name, vendor name, and contact information so that we can get back to you!