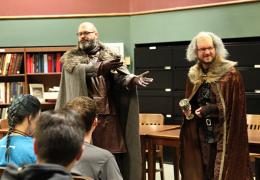 Rocket City NerdCon (RCNC) is a celebration of all things nerdy…if your fanaticism for pop culture, comic books, movies, tv, books, games, collectibles, crafting, cosplay, LARPing, etc. borders on obsessively nerdy, this is the place for you! Come meet other people who geek out over similar subjects, and let your inner nerd flag fly.
When: Saturday, Nov. 4, 9 a.m. to 9 p.m. and Sunday, Nov. 5, 9 a.m. to 5 p.m.
Where: Downtown Huntsville Library, 915 Monroe Street, Huntsville, AL 35801
Tickets: $15 in advance or $20 at the door; children 10 and under are free with ticketed adult (Kids Camp is $5; see details below)
Tickets are good for the whole weekend, and you must have a ticket to enter panel rooms, workshops, and select kids' events. The library will be open to the public during normal library hours (Saturday, 9 a.m. to 5 p.m., and Sunday, 1 p.m. to 5 p.m.), but only ticket holders will be allowed in the library outside of normal library hours.
Follow the con on Facebook to make sure you don't miss any announcements! Questions can be sent to nerdcon@hmcpl.org.
Tickets are now on sale. Visit store.hmcpl.org or any library branch to purchase your pass for Rocket City NerdCon today!
New in 2017!
Adults have the opportunity to let their little ones enjoy Kids Camp during Saturday's Rocket City NerdCon, so adults can enjoy the convention knowing their kids are in a safe place while enjoying Harry Potter-themed activities. Kids Camp is only on Saturday, Nov. 4, and there is a $5 supply fee.
Ages 5-12: 9:30-11:30 a.m.
Ages 8-18: 4-6 p.m.
All children must be pre-registered when tickets are purchased. Space is limited to 40 children in each Kids Camp session.
Panel Presentations
Rocket City NerdCon 2017 needs you! Do you have a fandom, special set of nerdy skills, or topic that you are especially passionate about that you want to share with other like-minded nerds? By hosting a panel, workshop, presentation, discussion, or meetup, you can help make the convention more fun, educational, and all around fantastic. Submit your panel idea here!
Vendor Applications
Rocket City NerdCon 2017 is looking for vendors! If you are interested in being a vendor or artist at this year's convention, submit your application here. Selected vendors will be contacted soon after the form is submitted. Thank you for your interest in Rocket City NerdCon 2017!
​