Friends of the Library
Friends of the Library (FOL) is a national organization devoted to supporting local libraries. In Madison County we promote the interests of the Huntsville-Madison County Public Library (HMCPL) and its related libraries in community activities and in funding. Join the Friends at http://store.hmcpl.org/FOL, or stop by any branch and fill out a membership card.
Find Us On Facebook: Friends of the Library, Huntsville Main.
It's Fun To Be A Friend
Enjoy these perks:
The company of books and book lovers
The library newsletter, Cover to Cover, containing library news and services
Two members-only 50-percent-off sales in June and October.
3-week checkouts for books
2-week checkouts for DVDs
Membership dues fund programs and equipment at HMCPL libraries.
The Friends Of The Library Bookstore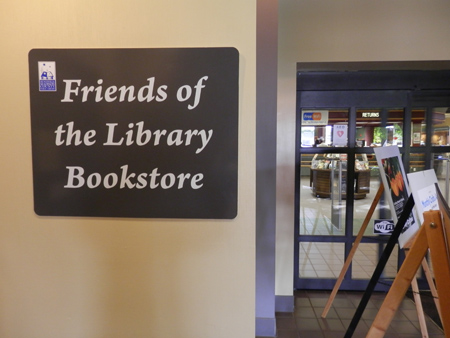 The bookstore is operated entirely by volunteers, and all revenue goes to the library. The Bookstore is located left of the entrance foyer at the Main Library
We need:
Books of all kinds, including reference and foreign language.
Audio visuals, including movies (DVD and VHS), books-on-tape, music (CDs and vintage records), video games.
Magazines and comics.
Imagine clearing your home of the things that take up needed space. Donate your gently used items and reclaim that space!
Volunteers Roll Up Their Sleeves
Inquire at the Bookstore or establish your interest in volunteering by phoning the Bookstore at 256-532-5986 (You must be a Friends member to work in the Bookstore.)
Bargain Days
Friends of the Library 25-Cent Book Sales occur twice a year in the Downtown Huntsville Library auditorium. Thousands of books of all kinds are sold at 25 cents each. The public is invited to the Friends' 25-Cent Book Sales.
Friends of the Library Members-Only Book Sales occur twice a year in the Friends of the Library Bookstore, just inside the entrance of the Downtown Huntsville Library. At these sales everything in the bookstore is sold at 50% off for Friends of the Library members only.
Here are dates for 2015 book sales:
August 8, Saturday, FOL 25-Cent Sale, 9 a.m. until 3:30 p.m., Downtown Huntsville Library auditorium
October 17, Saturday, Members-Only Falling Leaves Book Sale, 10 a.m. until 4 p.m. in the Friends' Bookstore, Downtown Huntsville Library.
Friends of the Library groups
| Branch | When |
| --- | --- |
| Bailey Cove | 2nd Monday |
| Gurley | 3rd Tuesday |
| Hazel Green | Call 256-828-9529 for meeting times. |
| Madison | 2nd Tuesday |
| Monrovia | 2nd Wednesday |
| Murphy | 3rd Tuesday |
| New Hope | 3rd Monday |
| Oscar Mason | Call 256-535-2249 for meeting times |
| Russell | Call 256-859-9050 for meeting times |
| Showers | 3rd Wednesday |
| Triana | 2nd Tuesday |