Volunteer @ HMCPL
Volunteer Value Statement
Volunteers are important to the success of the Huntsville Madison County Public Library and to the delivery of its services to the public. The Huntsville Madison County Public Library values the time and the commitment of citizens who volunteer.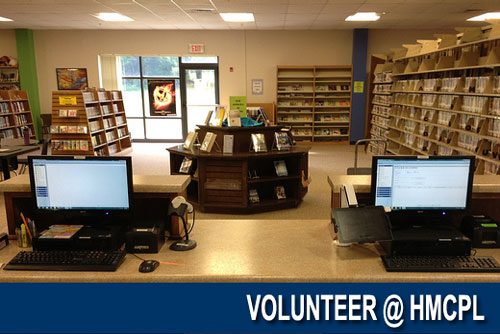 Volunteers, on behalf of the Library and with staff direction, partner with staff to provide support necessary to implement the mission and programs of the library system. Volunteers of the Library serve in many capacities. However, volunteers will not be placed in positions that could jeopardize the library's ability to operate if a volunteer failed to report to work. Volunteers are viewed as a valuable resource and therefore the staff of the Huntsville Madison County Public Library aims to give volunteers meaningful responsibilities, appropriate orientation and training, effective supervision and recognition. Volunteers are expected to perform their duties to the best of their abilities and to remain dedicated to the mission and vision of the Library.
Equal Opportunity Policy
The Huntsville Madison County Public Library maintains a strong equal opportunity policy. Volunteers are recruited, placed, trained, recognized and dismissed on the basis of competence and job performance, without regard to race, creed, color, religion, gender, sexual orientation, age, national origin, marital status, disability or political affiliation.
Volunteer Orientation
Join us to learn how you can help your library serve our community. We meet on Main's 3rdFloor in the front area of the Special Collections Department on a bi-weekly basis, check the calendar to the right for specific times and dates or contact the Volunteer Coordinator to make an appointment.
Volunteer Eligibility
The Huntsville Madison County Public Library values the time and the interest of citizens who would like to volunteer. All those interested in volunteering in the Library must complete an application form which will help the Library determine volunteer placement and responsibilities. Volunteers, either individually or in groups, must be at least 14 years of age.
Types of Volunteers
Individuals, either solely or in groups, who volunteer at the library based on a willingness to serve our patrons and our community are known as "Star Volunteers"
Individuals, either solely or in groups, who volunteer at the library based on a court-ordered mandate or similar arrangement are known as "Community Service Volunteers"
Both types of volunteers will be given specific tasks during their time with the Library which is matched with an individual's skills, abilities and aptitude.
Sample Volunteer Positions
Availability of Locations to Volunteer
Please note that not all volunteer positions are available in every location.
Roles and Responsibilities
When you arrive to volunteer you need to

Sign in at your designated area so we can keep an accurate record of the hours you work each week
Check with your supervisor for special instructions or tasks

You (unless otherwise trained) should refer all requests for information to the library staff, other than purely directional questions (e.g.. where is the bathroom; where is the children's area, etc.).
Huntsville-Madison County Public Library shall make use of the services of interested volunteers to supplement and not replace work done by the library staff.
You will work directly with library staff members to receive training and complete projects. All volunteers will be assigned one primary staff member to guide them in their work; however, staff members may offer guidance to any of the volunteers.
You may be terminated at any time at the Library's sole discretion with or without cause. Causes for termination include but are not limited to:

Not performing work at an appropriate level of capability
Negative attitude, offensive language, inappropriate dress or misconduct
Violation of city, state or federal laws
Harassment
Unexcused absences
Dress Code
Any time that you are at the Library in a volunteer capacity, you must wear your volunteer badge. We also ask that you wear appropriate clothing like in the examples given below. It can get chilly in the library, so you might want to bring along a light jacket or sweater.
Good clothing choices
Not appropriate

Khakis
Jeans (in good repair)
Polo shirts
Unprinted t-shirts
Comfortable shoes

Athletic shorts
Mini-skirts
Short shorts or super low-rise jeans
Halter/tank tops or muscle shirts
Product t-shirts (alcohol, slogans with lewd phrases)
Attitude
You are doing an important job by representing the Library, so smile! You will be helping the staff and the public so be prepared to be pleasant, friendly and helpful! You are a valuable resource for the library; your energy and talents help the library meet its commitment to providing quality service to the public.
Attendance
You need to be prompt and present for your scheduled work hours. We will be expecting your help at that time and need to be notified in advance when you are unable to make it to the library. Please remind your supervisor the week before you go on vacation or other previously scheduled commitments. In turn, we will notify you if the library opens late or closes early for any reason.
If you can't come in at your appointed time, please let your department or branch supervisor know as soon as possible as there may be certain tasks or other duties that will need to be reassigned. 
Volunteers don't get paid, not because they're worthless, but because they're priceless. ― Sherry Anderson