---
The Huntsville-Madison County Public Library is excited to announce the Blast Off Book Festival is returning on Saturday, March 7 at the Madison Public Library. This event will feature bestselling author of Lunch Lady and Star Wars™: Jedi Academy, Jarrett Krosoczka. This event is sponsored by the Huntsville Library Foundation, the Madison City School District and the Madison Friends of the Library.
Second, third and sixth grade students in the Madison City School system will have a chance to see Jarrett on Friday, March 6 at the Bob Jones High School Auditorium through a school-sponsored field trip.
---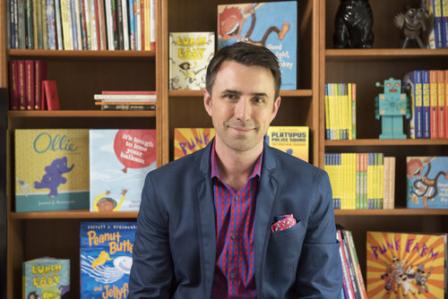 Saturday, March 7, 10:30 a.m.
Madison Public Library Auditorium
Doors open at 10:00 a.m. Event is limited to the first 350 attendees in the auditorium. We will have a live feed in the programming room if we reach maximum capacity.
Signed books will be available for sale at the event. Snail on the Wall is our official bookseller. They will have a wide selection of Jarrett's books available for sale.
New York Times best-selling author/illustrator Jarrett J. Krosoczka creates books with humor, heart, and a deep respect for his young readers—qualities that have made his titles perennial favorites on the bookshelves of homes, libraries, and bookstores. Titles include several picture books, his wildly popular Lunch Lady graphic novels, and the Platypus Police Squad middle-grade novels. He also recently launched a new story arc in the Jedi Academy series with Star Wars™: Jedi Academy: A New Class. His most recent book, Hey, Kiddo (Oct 2018), is a graphic memoir about growing up in a family grappling with addiction, and finding the art that helps you survive. Hey, Kiddo was a finalist for the 2018 National Book Award for Young People's Literature.
Please visit Jarrett's website for more information about his work.