The Outreach department coordinates the majority of the Library's activities that occur outside the Library's physical locale. This includes the Ready Readers program, the BookMobile, services to senior citizens and those in assisted living facilities in Huntsville-area nursing homes, science clubs, puppet shows, and services at the Neaves-Davis Center juvenile detention home. This department also handles any requests for festivals, parades, and community functions.
Ready Readers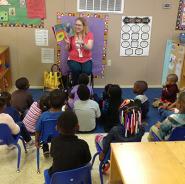 The Ready Reader program services approximately 96 Title One Pre-K, Head Start, first class Pre-K, and kid skills classes across Huntsville, Madison, and Madison County. Classroom teachers are loaned a variety of books and activities to help supplement instruction. Librarians from the Outreach Department provide these preschoolers with enriching story times that focus on developing the six pre-literacy skills: oral language, print awareness, phonemic awareness, vocabulary, print motivation and narrative skills. Strength in these areas help lay the groundwork for future academic success and foster a lifelong love of learning. If you are interested in learning more about the Ready Readers program, please call 256-532-2342.
BookMobile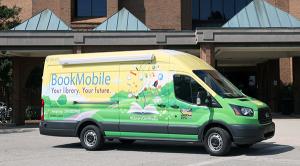 The BookMobile is a library on wheels containing an expansive catalog of items in every category you might find at any branch library, transporting materials and resources to Madison County communities. This includes bestsellers, DVDs, music CDs, children's materials, and large-print books, just to name a few. Please contact the Outreach Department at 256-532-5961 or outreach@hmcpl.org if you are interested in scheduling a BookMobile visit for your community group within Madison County. Read more about the BookMobile here.
Senior Services and Assisted Living
The Outreach Department serves the needs of patrons residing in over 40 nursing homes and assisted living facilities. We provide collections of approximately 150 large-print books, DVDs, audio books, and Bi-Folkal kits to each facility. The collections are rotated every three months, depending upon the needs of each site. We work with activity directors at these sites to assess the special needs of their residents to better serve our patrons. If you would like more information about senior services, please contact Cheryl Wernle at cwernle@hmcpl.org or 256-532-2363.
Science Clubs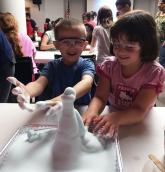 Personnel from the Outreach Department facilitate activity-based STEM curriculum at several HMCPL branch locations through grant programs furnished by LSTA. Each program focuses on a different science concept while encouraging positive interaction with peers through fun and exciting hands-on activities. There is also a mobile 3D printer that visits branch locations and special events throughout the community.
Puppet Shows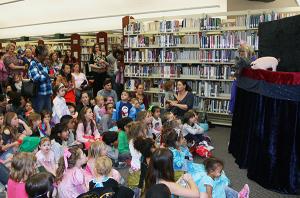 Children throughout Madison County delight in the HMCPL Puppet Troupe's productions of popular stories, songs, and tall tales. A fixture at Lowe Mill's Good Day Celebration and other cultural festivals, these shows bring stories to life to promote literacy in a fun, accessible, and entertaining way. During the spring months, the troupe travels to schools throughout Madison County to promote Summer Reading, adapting the show to each year's theme. Throughout the year, branches produce seasonal shows that are free and open to the public. 
If you would like to donate a puppet, please contact mpinyan@hmcpl.org.
Neaves-Davis Center Services
The Neaves-Davis Center is a 48-bed juvenile detention facility operated by Madison County in accordance with licensing standards set forth by the Alabama Department of Youth Services. The NDCC serves as a secure detention facility for delinquent juveniles detained by court order pending court hearings or acceptance in to rehabilitative treatment programs. To meet the educational and cultural needs of the youth housed at the Center, the Outreach department maintains a small library at the Center and conducts weekly book club meetings with discussion.