---
In May of 2022, the HMCPL Board of Directors voted to eliminate overdue fines, becoming the first large library system in Alabama to become fine free. This decision is in part due to the Alabama Literacy Act. The Alabama Literacy Act aims to improve reading proficiency for kindergarten to third grade students in the public schools. The Library wants to increase access to literacy to children and eliminating fines will do just that.
Read the news release.
---
Fine Free Frequently Asked Questions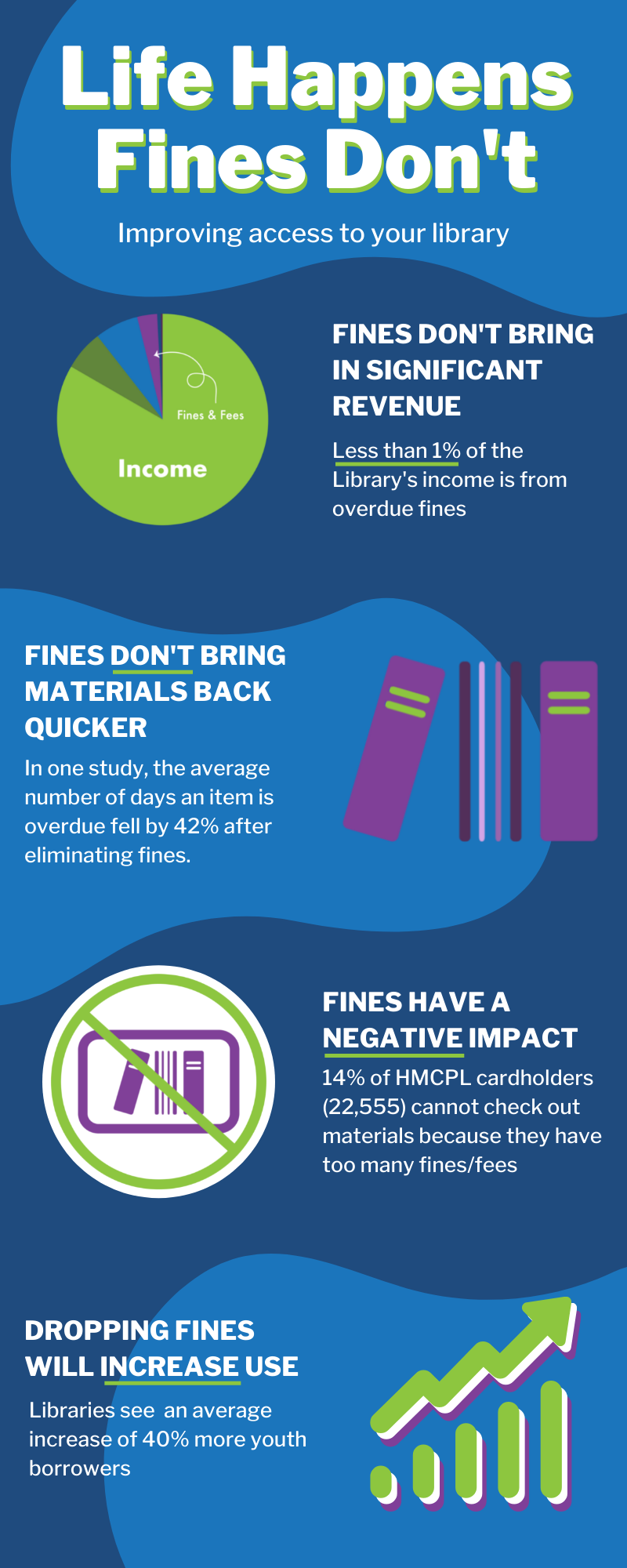 Why would a library eliminate overdue fines?
The top reasons to eliminate overdue fines are to increase access to library materials, reduce the inequitable impact of overdue fines, improve patron relationships with the Library, and optimize library staff time and increase efficiency.
How are overdue fines inequitable?
Many library members face fines, but for those without disposable income they can be difficult to pay. You can also see in our own community that lower income neighborhoods are disproportionately affected. 14% of HMCPL cardholders are blocked due to fines.
Don't we need the revenue from fines?
Overdue fines account for less than 1% of our income. 
Won't people just keep the library books?
Research shows overdue fines do not ensure borrowed materials end up back on shelves. Patrons' behavior regarding returns will not be significantly affected by a change in fines. Libraries that have gone fine free have not experienced increases in late returns.
What about lost items?
There will still be a lost item charge if materials are not returned or are returned too damaged to circulate. Materials will be considered lost at 14 days overdue, blocking the account from checking out anything else until the items are returned and the charge is automatically removed.
What about existing fines? 
All existing fines will be forgiven, but lost item fees will remain.
---
Suggested reading
The Atlantic, December 4, 2020 "Why Some Libraries Are Ending Fines" by Deborah Fallows, https://www.theatlantic.com/ideas/archive/2020/12/why-some-libraries-are-ending-fines/621445/
Fine free Library Map, Urban Libraries Council website https://www.urbanlibraries.org/resources/fine-free-map
Why Have Libraries Gone Fine-free The Past Few Years?, American Library Association Blog https://www.oif.ala.org/oif/why-have-libraries-gone-fine-free-the-past-few-years/
New York Public Library Announces Fine Free, October 2021 https://www.nypl.org/spotlight/fines