Introduction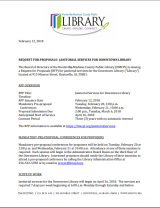 The Board of Directors of the Huntsville-Madison County Public Library (HMCPL) is issuing a Request for Proposals (RFP) for janitorial services for the Downtown Library ("Library") located at 915 Monroe Street, Huntsville, AL 35801.
Mandatory pre-proposal conferences for proposers will be held on Tuesday, February 20 at 2:00 p.m. and Wednesday, February 21 at 10:00 a.m. Attendance at one of these sessions is required. Each session will begin in the Administrative Board Room on the third floor of the Downtown Library. Interested proposers should notify the Library of their intention to attend a pre-proposal conference by calling the Library Administration office at 256-532-5950 or by email to sroyer@hmcpl.org.
The RFP is available for download on this page only.
Addendums
   1.) Is it acceptable to use a sub-contractor for Optional Services?
   Response: Yes, a sub-contractor may be used for providing the Optional Services listed in the RFP:
1 annual carpet extraction on 1st floor.
Quarterly cleaning of Auditorium carpet and adjacent hallway carpet
1 annual strip and wax (3 coats) of all VCT tile.
1 annual cleaning of all windows on 1st, 2nd, and 3rd floor, inside and outside, including dusting high, hard to reach ledges and window sills around atrium.
1 annual dusting of top of planter around circulation desk.