Non-profit organizations needing public meeting space or individuals needing a study or conference room are welcome to reserve or book a room using our Online Reservation System by Demco Software's D!Bs and SPACES.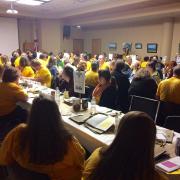 Six locations offer larger meeting rooms and two locations offer small study or conference rooms.
Instructions are provided here and your questions may be answered on our FAQ.
System status note: Some users are currently experiencing technical difficulties.  Please accept our apologies and know that we are working to correct the issues. 
Click on either of these links to begin: