Watch this page for updates about our new hotspot circulation procedures after October 1, 2022
HMCPL has partnered with T-Mobile to offer our patrons a small, hand-held device that will create a personal Wi-Fi bubble with unlimited Internet access that we call Wi-Fi Hotspots.
Each hotspot can have up to 15 mobile devices -- iPads, Kindles, laptops, even Playstations or Nintendo consoles - connected simultaneously. They connect to the Internet via T-Mobile's 4G LTE network, allowing download speeds potentially over 30 megabits per second (Mbps).
$10 per week for up to 26 weeks
Full payment must be made at the time of checkout
No renewals
No refunds
Holds can be placed on hotspots
The units will be in a box with a charging cable, power adapter, and the hotspot. All items must be returned
Late fees are $2 a day. If the item is not returned within 3 days of its due date, it will be marked lost and deactivated, becoming unusable. The patron will also be billed a $10 nonrefundable processing fee
Replacement fee for a lost item will be the full cost, or $57.40
Patrons are responsible for verifying the network coverage at https://www.t-mobile.com/coverage/coverage-map and for charging the device.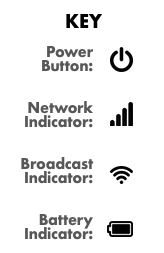 Instructions
IMPORTANT NOTE: Pressing the Power button for 10 or more seconds will force a reset and make the device unusable. 
TURN ON: Press the Power button on the mobile hotspot for 3 seconds until the indicators momentarily flash. Wait for the Network and Wi-Fi Broadcast indicators to come on, one at a time. When the Network and Wi-Fi Broadcast indicators light up, the connection is enabled. 
CONNECT: Open the Wi-Fi settings on your device. Look for SSID of LibraryNetXXX, noting that the numbers are specific to each of our hotspots. You may have to turn off and on wifi on your device to see the SSID of the hotspot. Use the passphrase hmcplwifi to establish the connection. 
RECHARGE: Connect the power cable and charger when the battery indicator blinks or is yellow or red.
TURN OFF: Press the Power button on the mobile hotspot for 3 seconds until the indicators momentarily flash. When all the indicators go dark, the Network and Wi-Fi connections have been disabled and the unit is powered down. 
CLOSED DATES: Note that due dates and charges are not adjusted for dates the library is closed. To avoid late fees, patrons may return their device early at any branch or place it in a book drop or book return on the due date; you may also keep it until we reopen and pay $2.00 for each day past the due date.
For more information contact hotspot@hmcpl.org